DOUBLE WHAMMY SALE 5 Honey 5 Coffee $8ea.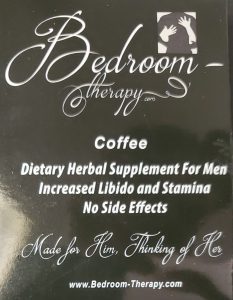 Bedroom Therapy Honey for Men
Bedroom Therapy Honey is a proprietary formulation that contains a blend of natural ingredients that include Honey, Royal jelley, Eurycomalongifolia, Panax Ginseng, Maca and other proprietary natural ingredients. These ingredients have been proven to enhance and improve strength, stamina, energy, virility, physical endurance, sexual pleasure and desire, orgasm, sexual performance, erectile function and reproductive of fertility health.
Dosage: Mix 1 sachet with 150ml of room temperture water or empty entire sachet into mouth. For extended sexual potency and increased Libido, take 1 sachet every 3 days.
BEDROOM THERAPY COFFEE
Bedroom Therapy Coffee is a formulation that contains a proprietary blend of natural herbs and superfoods that increase potency and sex drive, promote healthy blood circulation and strengthen the immune system due to its high energy content.
Other benefits of Bedroom Therapy Coffee:
 Stimulate sexual libido, Increases strength and duration of erections, Helps control premature ejaculation, Boost up energy.
INGREDIENTS: Instant Coffee, Sugar, Non Dairy Creamer, Lepidium Meyenii ( Maca) Radix Eurycoma Longifilia, Radix ans several proprietary ingredients.