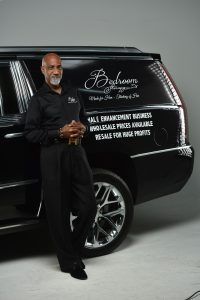 WHEN YOU SEE THE BEDROOM THERAPY  COMPANY VEHICLE, TEXT THE TAG NUMBER TO 404.759.1375. YOU WILL RECEIVE A TEXT  ON HOW TO MAKE A ONE-TIME PURCHASE OF ANY PRODUCT FOR ONLY $5, NO MINIMUM WITH FREE SHIPPING.
PICTURE BEDROOM THERAPY ROLLING!
Our Herbal products are made to ENHANCE & IMPROVE the "sexual experience" for MEN & WOMEN unlike any herbal product you have ever used with NO side affects! Our products Bedroom Therapy, Black Bull and Zulu Warrior (one great formula for all) will increase your ability to perform, rebound, restart, last and LOVE! LADIES GET IT FOR YOUR HUSBAND, BOYFRIEND, FATHER, BROTHER, COUSIN, UNCLE! THEY WILL ADORE YOU!
BEDROOM THERAPY is one of the few companies that offer a QUALITY sexual enhancement product for women that actually work. Our FEMALE HONEY is a unique formulation that has been clinically researched and tested to provide support for women's health. Our female honey will increase body arousal, sensation & dryness ( WILL MAKE YOU WET AS WATER! ) and will help regulate the menstrual cycle and help balance hormones.  
LADIES, SPREAD THE WORD! Tell everyone about the MAGIC that you have discovered with BEDROOM THERAPY!
WHOLESALE PROGRAM -Purchase Bedroom Therapy products wholesale and resale for HUGE profits! Every man, Every woman in the world is a potential customer. Your family, friends and associates will adore you for the magic that you have helped them discover with Bedroom Therapy! UNLIMITED profit potential unlike ANY other product! Purchase at $4ea. (100 minimum) Resale at $10, $15, $20 EACH!  $6, $11, $16 PROFIT – Do the math! 
CALL OR TEXT 404.759.1375 FOR MORE WHOLESALE INFORMATION – SERIOUS INQUIRIES ONLY.
*Prices Subject to Change Without Notice*
Covid-19 Shipping Delay Notice:
If you are a regular customer or have purchased from us before, you are aware of the fast turn-a-round time for our shipping. We always ship orders within 2 days of orders being received even though our shipping policy states that we will ship 2-3 weeks after receipt. Unfortunately like the the rest of the world, the COVID problem has affected our factories production time and shipping time. USPS shipping times have slowed tremendously. USPS will not even offer refunds if they do not deliver their next day deliveries on time. We will continue to put measures in place to avoid delays as much as possible. We will increase our inventory as our business increases if necessary. If our inventory does not allow for your entire order to be shipped, we will ship a partial order and note on your invoice that additional product is due. This allows us to lessen the problem and provide some product rather than not providing any.
We apologize for any inconvenience that COVID is causing. We will ship your orders as soon as our shipments are received. As a suggestion, please allow for the added delays to your ordering time.
We appreciate your understanding and continued business.